Plant of the Month – 2013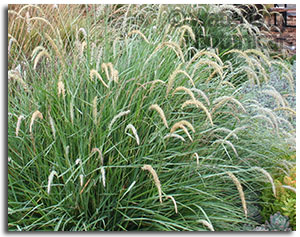 OCTOBER
Pennisetum
'Fariy Tails'
This evergreen, water-wise, ornamental grass has slender, graceful blades with fluffy, wheat-colored tassels. It grows to approximately 3-5' tall, by 2-3 'wide, loves the sun and is hardy to the mid 20s. It is also acceptable for coastal plantings. Blends beautifully with Forest-scapes, as well as Cottage Gardens.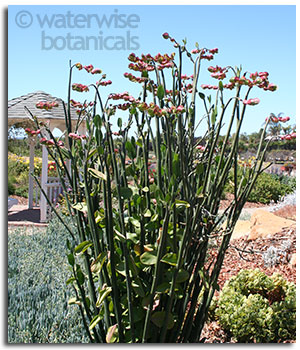 SEPTEMBER
Pedilanthus bracteatus
'Tropic-tillo'
This striking vertical accent is the equivalent of a thornless Ocotillo, growing with the same shape up to 8′ tall and tipped with reddish flower bracts for a good portion of the year. Leaves appear with new growth, but drop off when mature or very dry, to expose elegant smooth green stems. Extremely water-wise, but tolerates regular garden watering as well. It is Hardy to low 20s, and likes the full sun. This beauty is a member of the Euphorbia family, with milky sap that is irritating to skin and painful in eyes. Handle with care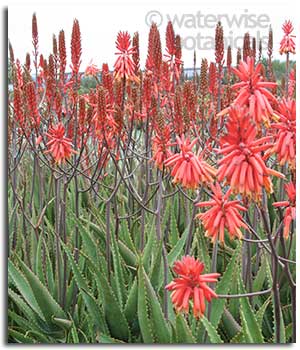 august
Orange Flame Aloe
'Aloe dawei'
This bright green Aloe spreads in clumps to 3′ by 3′, absolutely exploding in spikes of fiery orange flowers all throughout summer & fall. The foliage is rich in texture and beautiful, even when not blooming! It thrives under all conditions from full sun to part shade, is water-wise when established, and hardy to the mid 20s. Frost tender!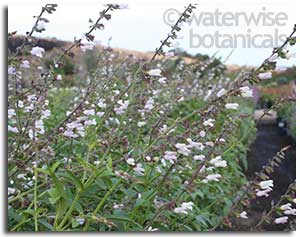 july
Salvia
'Waverly'
This Salvia is one of the most beautiful, and graceful in the whole Sage family. Nice, deep green, slender foliage with small, lavender and white blossoms trailing up the flower stems attracting Hummingbirds to your landscape! Its appearance is adaptable to many designs including the cottage garden and forest-scape. Loves the sun and regular garden watering growing to approximately 3-5 feet tall and wide. Prunes easily by snapping the slender, graceful stems.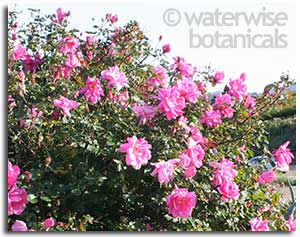 june
Rose – Carefree Beauty
A bountiful shower of big, pink flowers provide an explosion of color from spring through fall! Large blossoms of medium pink make this graceful shrub rose a showplace in your landscape. Flowers 9-10 months of the year – stands alone or makes a glorious free-flowing hedge. Grows 4-5′ tall by 4′ wide with a light apple fragrance, deep green, disease free foliage and is moderately waterwise. Loves full sun.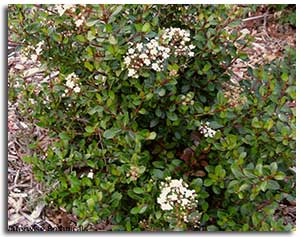 May
Dwarf Viburnum
Viburnum obovatum 'Densa'
This compact dark green shrub explodes with masses of tiny white flowers from spring through summer, continuing to bloom sporadically throughout the rest of the year. Grows to 3 feet round, loves sun to partial shade and needs medium watering. Hardy to the mid 20s and attracts Butterflies.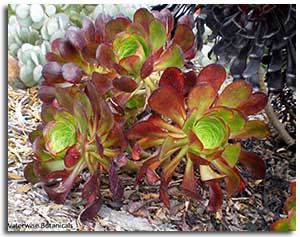 April
Plum Petals
Aeonium arboreum atropurpureum hyb.
Plum Petals demonstrates an Aeonium with deep, plum-purple colored leaves, forming large rosettes up to 10″ across, but freely branching and covering the whole plant with foliage, ultimately forming a succulent shrub up to 3 ½ feet tall, and almost as wide. Performs beautifully in sun or part shade along the coast, or part shade in hot inland and desert areas. Tender to frost. Can accept regular garden watering, but is very good as a waterwise candidate as well. It's active growing season is during the cool temperatures and rains of the fall, winter and spring.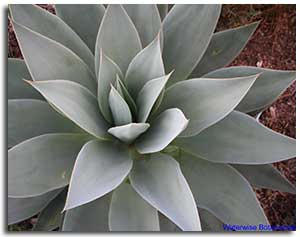 March
White Agave
Agave celsii albicans
Silvery, smooth broad leaves provide a color contrast in your landscape. Grows in a clumping habit, forming large rosettes growing 2′ high to 3′ round. When viewed from about it almost resembles a silver star! Loves the sun and is drought tolerant; hardy to the teens.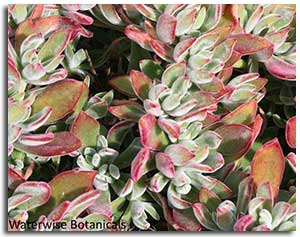 February
Plush Plant
Echeveria harmsii
This low mounding succulent with velvety foliage of silvery green with tints of red feels fuzzy to the touch. Growing to only 6-8" tall, it spreads to 2' making a beautiful succulent mat, and produces orange flowers through most of the year. It is hardy to low 20's and can be quite water-wise, but enjoys regular watering too and needs full sun. *Watch for a new variety called Ruby Slippers coming soon!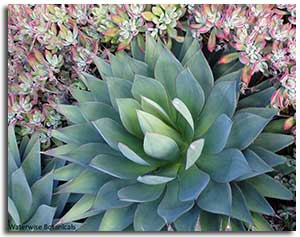 January
Moonshine Agave
Agave Sp.
The soft blue-green color and dramatic sculptural shape of this exotic agave makes it a landscape specialty! Smooth leaved, clumping rosettes grow to 18-24″ tall by approximately 26″ round. It is both versatile and appealing with its clean lines and starburst shape. It loves the full sun, is waterwise, and hardy to the high 20s.
---
Note: These plants are not necessarily stocked at Grangetto's Farm and Garden Supply.
Plant information is provided by Waterwise Botanicals. Waterwise Botanicals is more than a nursery, it's a field trip! Our 20+ acre operation includes ponds, pathways, plus fields of flowers and foliage in growing-grounds and containers. It is the perfect place to explore ideas, as you stroll through inspirational gardens filled with wild and wonderful, cutting-edge plants. Located in the rolling hills of North San Diego County, a visit to Waterwise Botanicals is an "escape to the country" with beautiful vistas, birds, butterflies, lizards, pollywogs (in season), fish and fresh air. Keep in mind that part of the "experience" includes mounds of steaming mulch, orange tractors, field workers watering, planting, pulling orders and loading delivery trucks. We offer ongoing public events and seminars listed on our website and our landscape design team can assist you in creating your dreamscape. You'll want to bring your camera, comfortable walking shoes, your coffee or lunch, kids, and dogs (on leash) and let Waterwise Botanicals educate, inspire and entertain you.